Lose weight and look good day 092 / 093
Workouts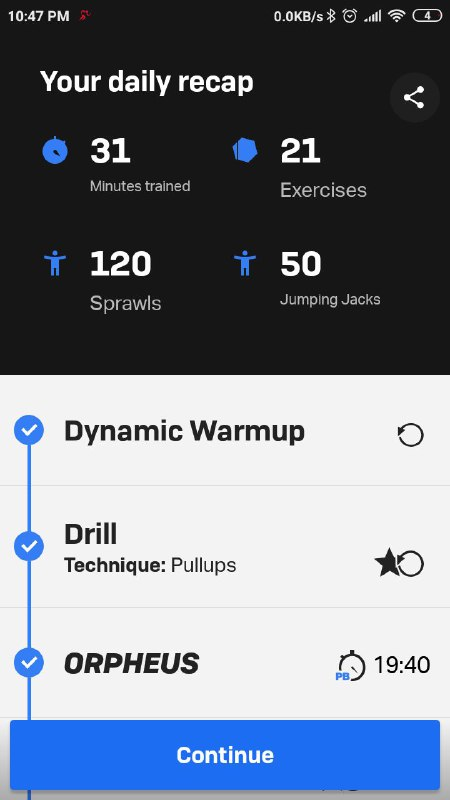 Lately, coach has been giving me hard time. I'm having trouble to keep up with my daily routine. Take a look at yesterday's workout, 120 sprawls!!! Reluctantly, I still did it anyway. It took almost 20 minutes to complete the whole course. Also, there's a lot of arm works involving my pull up bars, totally wasn't expect even by hanging there would cause so much pain on my arms. Either I'm really overweight until my arms couldn't sustain my bodyweight, or my arms are seriously too weak. I gotta somehow start to work harder on my arms now.
Some food highlights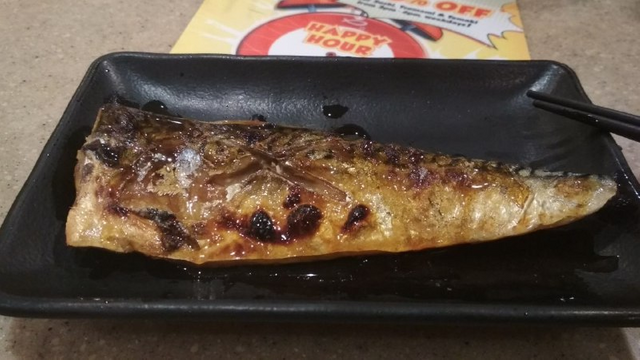 Not in any order, some of these food are consumed during these two days. The above is Saba Terriyaki. I know I can have choice of Saba or Salmon. No doubt salmon is lower calories, but it's also more expansive compare to Saba, had to pay 30% more to get Salmon. So, we will just make do with Saba.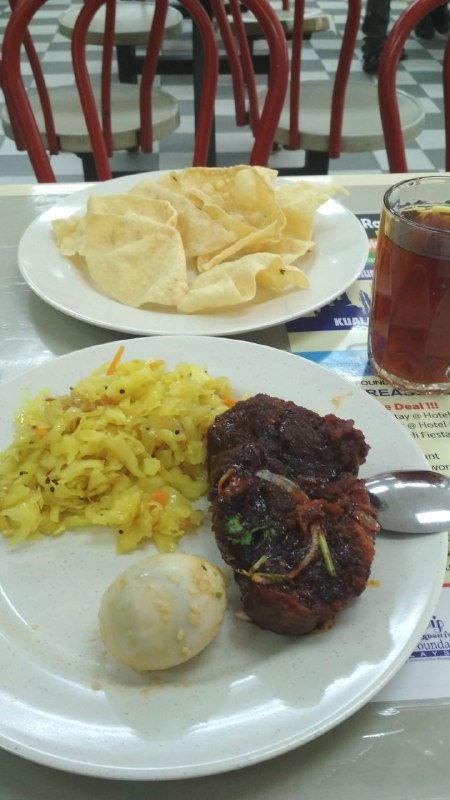 My lunch at the office cafeteria is usually around 4 to 5 bucks. For the first time, I took a quarter chicken, breast and wing portion, a portion of fried cabbage, one piece of curry boiled egg, and a plate of rice cracker. Coupled with that is my usual cup of tea, total RM9. Still not too bad, because the chicken tasted really good!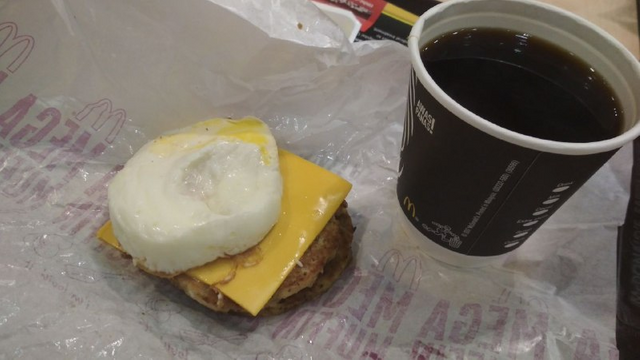 I'm a regular breakfast consumer of McDonald's. Some of their kitchen staff already can recognize my face because of my unusual request, a sausage muffin with egg – without – muffin. LOL. Well, this time it gotten a free upgrade, not only without muffin, the cheese was missing too. I had to bring it back to the counter and request them to put back my cheese. I know I know, cheese is consider process food, what is not from McDonald's? The fries is probably the least processed food I think. I will just have to live with what I can conveniently consume by controlling my calories intake.
The seemingly healthy but unhealthy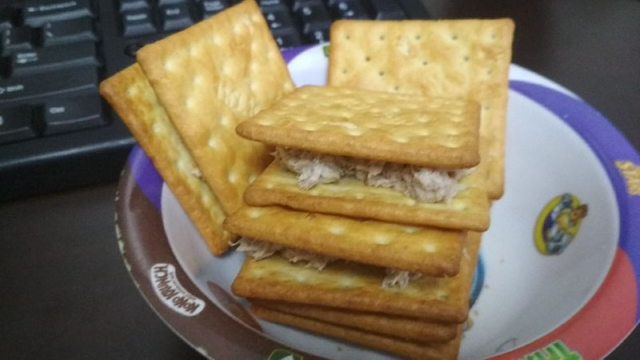 If you followed my post, I posted about my about to expire canned tuna. I had them mixed and store in my fridge. Guess what, even until today already one week, still nobody bother to eat it. I took out the biscuits, spread the tuna and start whacking. What is not so healthy about crackers? Trust me, the cracker is innocent, it's like 20kcal a piece of those cracker. The one who is committed crime is myself. Cracker can be easily over eaten due to the portion and the fillings. Having crackers will usually need to spread something on it. And we don't stop eating after 2 or 3 pieces. This meal, I took 10!!! Not forgetting the fillings are made of mayonnaise. So yeah, I will be gaining weight these coming few days. And I still have 5 mooncakes need to finish before month end, or they're going to expire soon.
---
This is not a competition with @erikahfit but we respect each other and we give mutual support to each other so we will be on track and keep ourselves motivated. I want my sexy beach body, and she wanted a healthier body. I will recycle this portion of footer to keep reminding us we're on a mission.
---
谢谢大家一直以来的支持和对我疼爱有加。如果方便,请你点击下图到我的个人资料网页为我留言请我吃星星哈。